Messages given by Saint Dominic of Guzmán to Clemente Domínguez y Gómez,
today Pope Saint Gregory XVII, the Very Great
Dnia 4 stycznia 1970
(Święte Miejsce Lentiska w El Palmar de Troya. Objawienia i Przekazy Klemensowi Dominguez:)
Święty Dominik de Guzman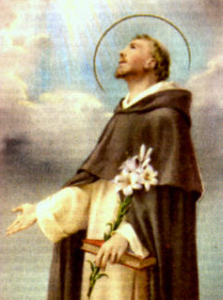 "Kocham was wszystkich, dzieci moje, ponieważ odmawiacie Święty Różaniec, przez który świat się zbawi: ŚWIĘTY RÓŻANIEC Z OJCZE NASZ. To jest wolą Zawsze Dziewicy Marii. Dzieci moje, pozostaje wam mało do cierpienia. Wielki Cud jest blisko, ale musicie modlić się. Was błogosławię."
Święty Dominik de Guzman
"Nie pozwólcie, aby w waszych Kościołach przestano odmawiać Święty Różaniec. Odmawiajcie zawsze, odmawiajcie zawsze, odmawiajcie zawsze, bo jest waszym zbawieniem. Musicie odmawiać Święty Różaniec jak Sama Dziewica dyktowała w tym Świętym Miejscu, i wiem, że będzie was kosztować wiele ofiar, ale w ten sposób uśmierzy się Święty Gniew Najwyższego. Odmawiajcie go zawsze kiedykolwiek przyjdziecie." (Odnosi się do Świętego Różańca Pokutnego. I dalej mówi Święty Dominik:)
"Módlcie się, módlcie się, módlcie się niezmordowanie. Nieważne zostawić wszystko, jeśli ofiara jest wolą Boga, ponieważ On wam pomoże zwyciężyć na drodze, którą wam nałoży." (Potem odnosząc do Klemensa Dominguez, mówi:)
Będziesz cierpieć strasznie, nie zrozumieją ciebie. Proście Boga, aby stała się Jego Święta Wola, Bóg was wysłucha, miejcie cierpliwość. On zna potrzeby każdego z was i czyńcie jak Jego Boski Syn czynił: Trzymać się Krzyża.
Was błogosławię. Jeszcze jestem z tobą. Nie bój się szatana: Z Marią i wszystkimi legionami adorującymi Boga, zmiażdżymy mu głowę."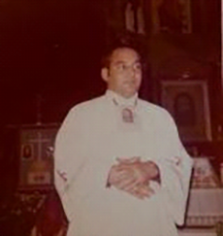 (Potem Klemens Dominguez miał straszną wizję piekła. Mnóstwo osób ze strasznymi twarzami i szatan wśród płomieni. Natychmiast potem Święty Dominik de Guzman otoczył się Aniołami. Klemens Dominguez wrócił z ekstazy, i wszyscy mogliśmy kontemplować, z radosnym podziwem jak otworzyła się nowa furtka w gospodarstwie w kilka chwil w różnym miejscu od tej zamkniętej i bez odczucia najmniejszego hałasu. Przeszliśmy potem do gospodarstwa z pewną obawą i już w środku drogi, widzący ujrzał Świętego Józefa, który blisko tej nowej furtki, jego Laską nam wskazał, abyśmy weszli do Lentiska.
Święty Dominik nadal mówił:) "Hiszpanio, Hiszpanio, Hiszpanio, módl się nadal. Jerozolimo, Jerozolimo, Jerozolimo rychło ujrzysz Świętą Świątynię."
Dnia 12 grudnia 1969
(Święte Miejsce Lentiska w El Palmar. Ukazał się Święty Dominik de Guzman Klemensowi Dominguez i dał mu następujący Przekaz:)
1. Święty Dominik de Guzman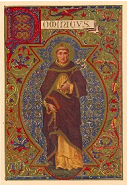 "Teraz kontempluj po mojej prawej stronie Boskie Oblicze Naszego Pana Jezusa Chrystusa." (Ukazanie się Świętej Twarzy.) "Patrz synu mój, Twarz Tego, który dał wszystko do ostatniego tchu, za twoje grzechy i za grzechy całego świata.
Za Jej pomocą, którzy Ją adorują medytując Mękę, Śmierć i Rezurekcję Chrystusa złączone z Bólami Błogosławionej Zawsze Dziewicy Marii, otrzymają łaski skonania w świętości. Będą zachowani od kary, którą Wieczny Ojciec ma przygotowaną na upuszczenie bardzo rychło. Bóg spali ludzkość w taki sposób, że zostanie mało na kontemplowanie Jego Boskiego Oblicza."
2. Święty Dominik de Guzman
"Niech się rozpowszechni i proklamuje odmawianie ŚWIĘTEGO RÓŻAŃCA Z OJCZE NASZ, który Dziewica dyktowała w tym Świętym Miejscu." (Odnosi się do Świętego Różańca Pokutnego, który składa się z 5 Tajemnic; w każdej Tajemnicy odmawia się 10 Ojcze Nasz kompletnych, czyli 1 Ojcze Nasz, Zdrowaś Mario, Chwała i Ave Maria Najczystsza, na każdym paciorku.)
Niech się rozpowszechni na cały świat ADORACJA ŚWIĘTEJ TWARZY PANA.

Odprawiajcie Drogę Krzyżową, kontemplując Boskie Oblicze Jezusa Chrystusa, wspominając Mękę, Śmierć, Rezurekcję, złączone z Bólami Błogosławionej Zawsze Niepokalanej Dziewicy Marii, prosząc o wybaczenie za wszystkie grzechy, wszystkie obrazy, obelgi, świętokradztwa dokonane Boskiej Twarzy.
Niech komunikują wszyscy w pierwsze czwartki każdego miesiąca podczas wszystkich lat aż do następnego przyjścia Pana, czyniąc dwadzieścia minut naprawy, dziękując Bogu, prosząc o nawrócenie Rosji.
Wszyscy, którzy adorują Świętą Twarz i czynią Komunie Reparujące OTRZYMAJĄ ŁASKĘ ŚMIERCI W ŚWIĘTOŚCI.
ZBAWIENIE ŚWIATA JEST W CZYNIENIU TEGO PODYKTOWANEGO W TYM PRZEKAZIE."
(Potem ukazał się Klemensowi Pan i dał mu następujące Posłanie:)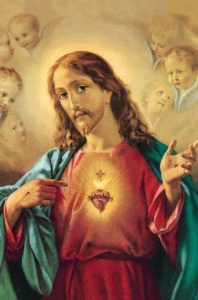 Nasz Pan Jezus Chrystus
"Synu Mój, musisz proklamować te Przekazy na cały świat, wierzącym i nie wierzącym. Jeśli nie przyjmą Prawdy, to ich sprawa. Kto ma słuch, niech słucha, kto ma rozumienie, niech rozumie."
(Następnie ukazał się Klemensowi Święty Dominik de Guzman. Zstąpili Aniołowie skąd był Założyciel Kaznodziei, którzy nieśli habit i kapę Zakonu Dominikanów.)
Święty Dominik de Guzman
(Powiedział Klemensowi:)
"Rychło, bardzo rychło, wcześniej niż myślisz, wdziejesz mój Święty Habit."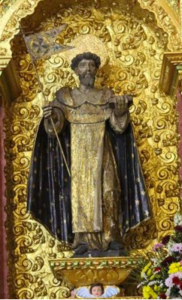 (Widzący, będąc nadal w ekstazie, nałożył habit Zakonu Dominikanów. Potem zdjął kapę, dał ją Aniołowi po prawej, który dał mu albę, ornat i inne szaty. Widzący nałożył je i wymawiał niektóre części Mszy, które Święty mu mówił. Widzący powiedział Świętemu Dominikowi, że nie był godny, ani będzie kiedykolwiek, celebrować Świętą Mszę, ale przyjmie wolę Boga, I dalej mówił Święty Dominik:)
"Synu mój: Jest bardzo długie co teraz następuje. Słuchaj uważnie tego Przekazu. Co teraz tobie powiem musisz donieść: Jedną kopię Kardynałowi (w Sewilli); inną Prymasowi (Hiszpanii); a inną pilnie mojemu kochanemu Bratu Nectario Maria na wręczenie ją Ojcu Swiętemu.
Zrozum dobrze, co ci powiem: Niech Święty Ojciec nakaże całemu Kościołowi adorowanie Świętej Twarzy Jezusa Chrystusa, prosząc o nawrócenie całego świata. Niech czyni to w następujący sposób: Obowiązkowo we wszystkie dni, bez jakiegokolwiek wyjątku, odprawiają Drogę Krzyżową, kontemplując Jego Najboleśniejszą Mękę.
Słuchaj, synu mój, niech we wszystkie Pierwsze Czwartki każdego miesiąca podczas całego życia aż do Drugiego Przyjścia Jezusa Chrystusa, komunikują czyniąc naprawienie za wszystkie grzechy, świętokradztwa, herezje, obelgi Boskiemu Obliczu Jezusa, dając Bogu dzięki przez dwadzieścia minut, prosząc o nawróceni Rosji, jako warunek dla zbawienia świata.
Niech umieszczą we wszystkich Kościołach Katolickiego Orbu Świętą Twarz Pana; za Jej pomocą, ci, którzy adorują medytując Mękę. Śmierć i Rezurekcję Chrystusa złączone z Bólami Błogosławionej Zawsze Dziewicy Marii, otrzymają łaski śmierci w Świętości. Będą zachowani od kar, które Wieczny Ojciec ma przygotowane na upuszczenie bardo rychło. Nie macie czasu. Jest najbliższa, najbliższa, bardzo blisko, wielka udręka, jeśli nie wykona się tego Przekazu. Bóg spali ludzkość w taki sposób, że zostanie bardzo mało na kontemplowanie Boskiego Oblicza. Powiedz Papieżowi, aby akceptował męczeństwo, przez które zbawi się wiele dusz; bo Bóg ma przygotowane mu nader dostojne miejsce po Swojej prawicy, gdzie będzie się cieszyć przez całą wieczność. Męczeństwo jest bliskie. Powiedz mu, aby przygotował oddanie się Najwyższemu.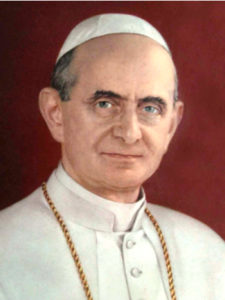 Niech Papież nakaże umieszczenie we wszystkich Kościołach Świętego Oblicza Jezusa; nie ma czasu na stracenie; niech przyjmie nakazy, które Bóg posyła za pomocą Objawień na całym świecie. Powiedz Papieżowi, aby wydał szybko światu uroczystą proklamację o Objawieniach w El Palmar de Troya. Niech nie zwraca uwagi na tych sprzeciwiających się El Palmar. Jeśli tego nie uczynią, światu zabraknie drogi do zbawienia.
Synu mój, musisz ogłosić ten Przekaz osobom, które ci wskazałem. Staraj się, aby zanieśli je osoby godne zaufania, na uniknięcie bezdroża. Zbawienie świata leży w uczynieniu tego podyktowanego w tym Przekazie. Pan zażąda rachunku o tych nakazach. Musisz wręczyć jedną kopię bezpośrednio Kardynałowi (z Sewilli), chociaż będzie to kosztować cię ofiary; już nie pora na cofnięcie się.
Hiszpania, łączcie się wszyscy w krucjacie Andalucji!, Będziecie mieć zbawienie. Odmawiajcie Różaniec z Ojcze Nasz, odprawiajcie Drogę Krzyżową przed Godną Adoracji Twarzą Pana, komunikujcie we wszystkie Pierwsze Czwartki miesiąca podczas wszystkich lat.
Święty Ferdynand już ma nakaz bronić Hiszpanii." (Ukazanie się Świętego Ferdynanda bez zniknięcia Świętego Dominika po jego lewej stronie.) Teraz mówić ci będzie Święty Król."
Biography of Saint Dominic de Guzmán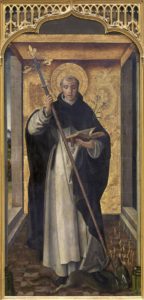 Presbyter. Religioso. Founder. Patriarch. Doctor. Great Mystic. Founder of the Holy Rosary. Born in Caleruega, Burgos, Spain, on the 24th of June 1170, his parents were Saint Felix de Guzmán and Saint Joan of Aza. During her pregnancy, the mother dreamed that in her womb she bore a puppy bearing a lighted torch, and that at his birth the world was set afire. On his forehead newly born, a star appeared.
Following his primary education and Christian upbringing at home, he went on to study at Palencia. Afterwards he devoted himself to studying Theology. In the year 1195, following his studies, the Bishop of Osma ordained him Priest, and afterwards summoned and appointed him a regular Canon of his church. From his youth Saint Dominic prized charity and austerity as his best-loved virtues. He had read that anchorites did not take wine, and he began to imitate them, though later he drank a little by counsel of his Bishop. In a time of general scarcity, he deprived himself  of what he most loved, his books and parchments, selling them to help the poor. On another occasion he offered himself in exchange for a captive who had fallen into moorish hands, as the poor wretch was the support of his family. For his charity towards neighbour, his zeal for souls, his life of austere asceticism, Saint Dominic was the admiration of all those who had dealings with him. In 1203 he undertook a journey to Denmark with Bishop Diego of Osma to carry out a delicate diplomatic mission commended by King Saint Alphonse VIII of Castile. Afterwards he set out on his way back to Castile, returning via France. On reaching the French city of Toulouse, he observed that many of the inhabitants had fallen into the albigensian heresy, which filled his compassionate heart with deep sorrow seeing innumerable souls living so miserably deceived. During his stay on Castilian soil, Saint Dominic, to pray in solitude, used to frequent a cave on the outskirts of the city of Segovia. On the 7th of October in the year 1204, a day when he was to be found retired in the cave deeply concerned at the albigensian heresy which was blighting the south of France, he asked the Most Holy Virgin  Mary to enlighten him as to the most effective way to obtain the conversion of the heretics. Saint Dominic was rapt up in loftiest ecstasy and saw Our Lady with the Child Jesus in Her arms. With Her right hand She showed him the Holy Rosary, while indicating to him how to pray it. The Most Holy Virgin Mary told Saint Dominic: "Here you have a mighty weapon against heresies. Join to your preaching and austerity of life the recital of the Holy Rosary, and I promise you that your apostolate with be very effective." 
Saint Dominic constantly strove to teach and propagate the Holy Rosary everywhere, and suffered greatly due to continual attacks from the enemies of this singular devotion. In the year 1205, Saint Dominic accompanied the Bishop on his journey to Rome. In May 1206, on his way back from Rome, Bishop Diego of Osma and Saint Dominic de Guzmán, in both of whom Pope Saint Innocent III had instilled great apostolic zeal for the conversion of the albigensians, arrived in Montpellier. The papal legate with two other papal envoys, as well as other prelates and abbots, had arrived in Montpellier, deliberating on how to put down the heresy. Diego of Osma and Saint Dominic, as simple missionaries, travelled around several French towns disputing with the albigensians and discrediting their errors with clear arguments. In October 1207, Bishop Diego of Osma returned to his Spanish diocese and died that same year. While Caudillo Simon de Montfort at the head of his troops led the Holy Crusade in southern France against the albigensians asked for by Pope Saint Innocent III, Saint Dominic de Guzmán, backed by Bishop Fulco of Toulouse and the Caudillo of the crusader army, carried out untiring preaching work for the conversion of the albigensians in the Languedoc region, chiefly in the towns of Montpellier, Béziers, Carcassonne, Toulouse and others, and was often victim of insults and outrages on the part of the heretics. He became Vicar General of Carcassonne, and twice rejected the episcopal dignity he was offered. In the year 1213, following the taking of Toulouse, the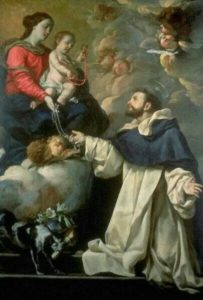 sect's chief bastion, Saint Dominic made this city the centre of his apostolate. He thought that the hour had come to found an Order of preachers, and in the large stately  home of one of his followers, he laid down the essentials of his Order, which was approved by Bishop Fulco. The Holy Dogmatic Lateran Council IV having been convoked in 1215, Saint Dominic accompanied the Bishop of Toulouse to Rome. During his stay in Rome, he had the following vision: Jesus Christ, seated on a judge's throne, took up three lances as though about to hurl them upon the world. Most Holy Mary interceded and, in the presence of Her Divine Son, presented two men as the means for the conversion of the world. One of the two was Saint Dominic, who recognized himself. But the second was unknown to him, till the following morning when he met Saint Francis of Assisi. The two Saints embraced like brothers. 
Before the inauguration of the Council, the saintly founder spoke with Pope Saint Innocent III the Great, requesting approbation for the work he was engaged upon. The Pope counselled Saint Dominic to choose a Rule from among those already approved, and then return so that everything might be confirmed, thereby  verbally approving the Work. In the year 1216, then in Toulouse, the Saint gathered his companions, and they chose the Rule of Saint Augustine, taking as well some of the usages of the Regular Canons or Premonstratensians founded by Saint Norbert, and adding other more austere observances. Thus the first community of the Order was founded in Toulouse, with the mission of diocesan preachers. 
Pope Saint Honorius III the Great having risen to the Pontifical Throne, Saint Dominic returned to Rome, and the Sovereign Pontiff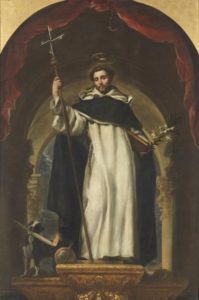 took the new Order under his protection. On the 22nd of December 1216, he approved it canonically, with the papal mandate that the Religiosos dedicate themselves to preaching, and gave it the name 'Order of Preachers'. Saint Dominic began his official ministry by preaching in the Papal palace during Lent of the year 1217, explaining the Letters of Saint Paul to the complete satisfaction of the Pope. About this time, while in prayer, Saint Dominic saw the Apostles Saint Peter and Saint Paul, who presented him with a staff and a book, telling him: "Go and preach, for that is your mission".  Given the warlike situation forming in the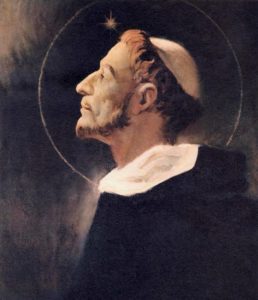 south of France owing to the conflict between Count Raymund VII of Toulouse and Caudillo Crusader Simon de Montfort, Saint Dominic, on his return to France, ruled that his sons in religion spread out to other parts. Some few stayed on in Toulouse, others went to Paris and others to Spain. He headed for Rome, where he received the monastery and church of Saint Sixtus. There twenty disciples joined. In 1218, the Saint left for Spain, passing through Bologna, where shortly before he had sent four Friars, and through Toulouse, visiting the priory there. In Spain he founded priories in Madrid and Guadalajara. He continued to found priories around France. 
When in Paris in 1219, he met Saint Jordan of Saxony, who was to join the Dominicans a year later and, at Saint Dominic's death, become his successor as Superior General of the Order. That same year, Pope Saint Honorius III granted him the monastery and church of Saint Sabina in Rome, to where the Friars of Saint Sixtus transferred, leaving the latter monastery to the Nuns of the Dominican Second Order. Saint Dominic de Guzmán, champion against the albigensians, died in Bologna on the 6th of August 1221. When he was laid out, the iron chain he had wound about his body and with which he also disciplined himself was removed. His body rests in Bologna. 
Canonized by Pope Saint Gregory IX the Great on the 3rd of July 1234. Declared Doctor of the Church by Pope Saint Gregory XVII the Very Great on the 21st of September 1989.