Messages given by Crowned Saint Teresa of Jesus to Clemente Domínguez y Gómez,
today Pope Saint Gregory XVII, the Very Great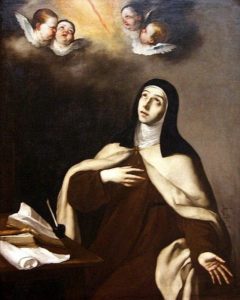 Dnia 4 stycznia 1970
(Święte Miejsce Lentiska w El Palmar de Troya. Objawienia i Przekazy Klemensowi Dominguez:)
Święta Teresa od Jezusa
"Ja wstawiam się za moją ukochaną Hiszpanią, ale musicie wzywać moją córkę Tereskę, przeznaczoną przez Wiecznego Ojca na zbawienie świata. Ja kocham was wszystkich." (Jeden z obecnych powiedział, że ona była kobietą największą po Dziewicy Marii, a Święta Teresa odpowiedziała:) "Nie, synu; to jest w oczach ludzkich. Bóg dysponuje rzeczy w mądry sposób. Zapomnieliście wielkich świętych. Wszyscy mamy wielką harmonię w Niebieskim Dworze: Wasz Jakub Apostoł, Święty Król Ferdynand, Święty Albert Wielki, Święty Marcin de Porres, który zajmuje w Niebie miejsce górujące przez swoją pokorę i przez pogardę świata ku nim, Święty Klemens Papież i Męczennik, który dał swoje życie w obronie Prawdy. Sewilla powinna być wdzięczna Świętemu Klemensowi, Dzieci moje: Oczywiście, Rodzina Jezusa Chrystusa jest ponad wszystkimi Świętymi.Dzieci moje: Nie zapominajcie prosić o mediację Ojca Pio. Musicie modlić się o przyspieszenie jego kanonizacji. Jest moim pragnieniem podzielanym z wolą Dziewicy Marii, aby po jego kanonizacji, miał ołtarz uprzywilejowany w przyszłej Kaplicy tego Świętego Miejsca, aby w dniach ciemnicy on was chronił."
Dnia 28 września 1970
(Święte Miejsce Lentiska w El Palmar de Troya. Ukazała się Klemensowi Dominguez Wybitna Reformatorka Święta Teresa od Jezusa. Po mówieniu o Doktrynie Rezurekcji, o Świętym Józefie i jego Wniebowzięciu z Ciałem i Duszą, zakończyła Przekaz mówiąc:)
Święta Teresa od Jezusa
"Dzieci moje: Was proszę wszystkich, abyście byli bardzo czcicielami Świętego Józefa, jak ja nią byłam. Musicie naśladować jego cnoty. On się zawsze wstawia za wami. Proście o wstawiennictwo Świętego Józefa, bo on ma wielką moc przed tronem Marii. Święty Józef ma wielką chwałę, bardzo wielką; a ci naśladujący go, będą mieć wielką chwałę w Niebie. Was błogosławię." (Widzący zobaczył Świętego Józefa w Niebie, otoczonego chwałą.)
Podróż apostolska Klemensa Domínguez y Gómez przez Hiszpanię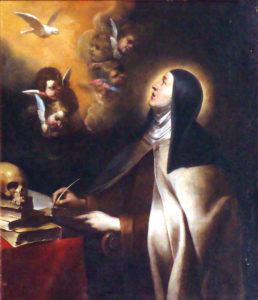 Dnia 3 sierpnia 1971
(Alba de Tormes-Salamanka, Hiszpania, Kaplica konwentu Karmelitanek Bosych. Ukazała się Święta Teresa od Jezusa Klemensowi Dominguez i dała mu następujący Przekaz:)
Święta Teresa od Jezusa
"Mój drogi synu: Dobry Jezus, Pan panów, Król królów, Pan zastępów, Rozkosz szczęśliwych, Pośrednik między Ojcem i ludzkością, Sługa ubogich, Ochłoda umierających, posłał ciebie do tego miejsca gdzie spoczywa moje biedne ciało, oczekujące rezurekcji, aby otrzymać bicie mego serca, mojego tchu, mojego ducha, moich sił, aby iść mocno w przeciwnościach, niesprzyjających drogach, umartwieniach i pogardzie u ludzi, właściwych tym, którzy idą do Przyjaciela Chrystusa.
Synu mój: Kiedy więcej doznajesz walk, obelg, pogard, piekielnych ataków, policzków od twych braci, opuszczenia od twych najbliższych, możesz powiedzieć: To Dzieło jest od Boga! Gdyż Jezus był zwalczany, obrażany, raniony, policzkowany, traktowany jako bluźnierca i oskarżony o konspirację przeciwko Cesarzowi; był skazany na Śmierć Krzyżową, opuszczony przez swoich drogich, swoich własnych uczniów; ale trzeciego dnia zmartwychwstał chwalebny. Jeśli chcesz zmartwychwstać z Chrystusem, przyjmij Krzyż. Jeśli chcesz zmartwychwstać z szatanem, zanurzaj się w przyjemnościach świata.
JA BYŁAM BARDO ŹLE TRAKTOWANA PRZEZ MOICH WŁASNYCH RODAKÓW, PRZEZ MOICH BRACI W RELIGII I OKRUTNIE KARCONA PRZEZ KOŚCIELNĄ HIERARCHIĘ. Moje podróże były wzięte jako kaprys niespokojnej kobiety; dyktanda Mojego Jezusa były widziane jako własne impozycje przeciwko Doktrynie Paulińskiej; byłam blisko skazania przez Trybunał Inkwizycji. ALE NIE PRZEMOGLI PRZECIWKO MNIE: ANI LAICY, ANI MINISTROWIE, ANI BISKUPI, ANI KARDYNAŁOWIE, GDYŻ NADSZEDŁ MOMENT, ŻE MUSIAŁAM NIE SŁUCHAĆ MOICH ZIEMSKICH PRZEŁOŻONYCH I IŚĆ ZA DYKTATEM WIELKIEGO PRAWODAWCY JEZUSA CHRYSTUSA, MOJEGO WYŻSZEGO DYREKTORA, KTÓREMU BYŁAM ZOBOWIĄZANA POD KARĄ WIECZNEGO POTĘPIENIA PODDAĆ SIĘ.
Przez nieposłuszeństwo Jezusowi i posłuszeństwo ziemskim Przełożonym, nie dokonałaby się wspaniała Reforma Karmelu, która uczyniła tyle dobrego Kościołowi i światu. Później, po pogrzebie mego ciała, Święta Matka Kościół, wyniosła mnie na ołtarze i nadała mi niezliczonych tytułów, kończąc teraz z Doktorką Kościoła. Wszytko to stało się przez uległość Królowi królów.
Synu mój: Słuchaj Jezusa zawsze kiedy jesteś pewien, że co słyszysz, jest słodkim głosem Syna Boga i Brata ludzi. Strzeż się fałszywego posłuszeństwa Hierarchii Kościoła, gdyż jeśli chodzi o Prawa Boga i zbawienie ludzi, nie ma mocy na ziemi, tylko ta Tego, który otrzymał od Ojca wszelką moc. W końcu, proszę wszystkich, aby poświęcili się publikowaniu cudów, które Jezus i Maria czynią na ziemi, poddawali się mojej opiece i osiągali natchnione pióro. Was błogosławię."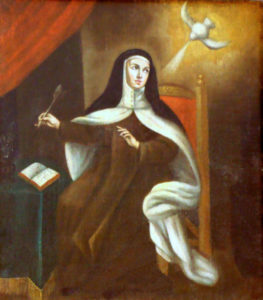 Dnia 10 marca 1977
(Sewilla. Dom Generalicji. Godzina 2,25. Podczas Kultów w Kaplicy, ukazał się Nasz Pan Jezus Chrystus Biskupowi Prymasowi Ojcu Fernandowi. Po kilku minutach ukazała się Święta Teresa z Avilu. Pan mówi: "Oto tu wśród was, wasza protektorka." Święta Teresa daje Ojcu Fernandowi następujący Przekaz:)
Święta Teresa z Avilu
"Jak zadowolona jestem z moich Karmelitów Świętej Twarzy! Gdybyście wiedzieli, że kiedy byłam na Ziemi, już mój umiłowany Oblubieniec Jezus Chrystus mi zakomunikował, że pewnego dnia, w Czasach Apokaliptycznych, będzie założony Zakon Karmelitów Świętej Twarzy. I będzie wielką Gałęzią mojej Reformy. Ile łask spadnie na was bardzo blisko, bardzo blisko! Najbliżej! Pan podniósł wasze modlitwy i pokutę na przygotowanie was do wielkich wydarzeń w Kościele, których wydarzeń, wy stanowicie najważniejszą część.
O, moje drogie dzieci, Karmelici Świętej Twarzy! Ile was kocham! Bo gdzie się podział duch Reformy? Gdzie jest duch Reformy w aktualnych Karmelitach w świecie? Łączą się z tymi z obuwiem, zmieniając całą Reformę, idąc do Progresizmu. Jaki ból patrzeć na Zakon, który sprawił mi tyle cierpienia w reformowaniu go! ALE WY ZACHOWUJECIE DUCHA OWEJ REFORMY. DUCHA MODLITWY I POKUTY. DUCHA SZACUNKU DLA WOLI BOGA. WALCZYCIE PRZECIWKO NIEGODZIWEJ HIERARCHII, KTÓRA RZĄDZI DZIŚ ŚWIĘTYM KOŚCIOŁEM. Ja wiem o tych rzeczach. Ja musiałam walczyć przeciwko niegodziwym Biskupom, niegodziwym Przełożonym, niegodziwym Nuncjuszom, etc. Ale dzisiejsi niegodziwcy są gorsi od tych tamtejszej epoki. Wszystkie modlitwy i pokuty, które czynicie jest mało w naprawieniu Bogu za tyle obraz, za tyle zniewag.
Ilu Karmelitów daje dziś zły przykład swoim demolującym progresizmem. Ilu Biskupów w oficjalnym Kościele opuściło Świętą Doktrynę i złączyło się z marksizmem, masonerią i heretykami. Wy jesteście małą trzodą, na którą liczy Dobry Pasterz, Chrystus Jezus. Czyńcie wiele modlitwy i pokuty, wiele modlitwy i pokuty, wiele modlitwy i pokuty. Wielki kataklizm nad ludzkością jest już u drzwi.
O, KARMELICI ŚWIĘTEJ TWARZY! JESTEŚCIE ŚWIETLISTYMI GWIAZDAMI KOŚCIOŁA W PANUJĄCYM ZAMIESZANIU. Ale musicie doskonalić się. Jeszcze macie wady. Tej doskonałości nabiera się bardziej niż z książkami, bardziej niż z lekturą, z modlitwą i pokutą i świętym posłuszeństwem waszemu Generalnemu Ojcu." (Po daniu instrukcji o modlitwie, Święta Teresa kontynuuje:) "Ile łask otrzymujecie! Ile! Będą niezliczone i bardzo blisko. Warto czynić modlitwę i pokutę na otrzymanie tyle łask, które zadziwią świat. Niektóre łaski nie udzielone wielu innym Świętym. Ile wspaniałości mieć będziecie w Zakonie Karmelitów Świętej Twarzy! A teraz, posłuszni waszej Reformatorce, kontynuujcie wasze modlitwy, po moim błogosławieństwie. Was błogosławię." (Święta Teresa dała w rękę Ojca Ferdynanda swoje Serce. Widzący mówi: "Jak tu jest w mojej ręce i także strzeżone w Castilli to przebite Serce?" Święta Teresa odpowiada:) "Synu mój: Boskie tajemnice. Nie ciekaw się tyle. Wszystkiego dowiesz się we właściwym czasie. Teraz, na życzenie Najświętszej Dziewicy Marii, wyryj to Serce w twoim!" (Widzący przycisnął silnie do swego serca, Serce Mistycznej Doktorki.)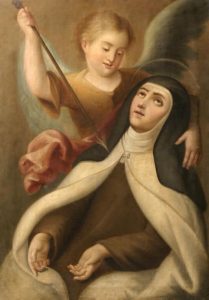 Dnia 6 sierpnia 1978
Święta Teresa z Awilu
"Drogie dzieci: Oto tu mówi Reformatorka z Karmelu: Winszuję wam, gdyż wasz Założyciel i Ojciec Generalny został wyniesiony do godności Zastępcy Chrystusa. Tego wieczoru, nawet natura zapowiedziała mianowanie lotem motyla. Nie było to przypadkiem. Było zapowiedzią proroczą dla cichych i pokornego serca." (Wyjaśnienie: Krótko przed wiadomością o śmierci Papieża Pawła VI, byliśmy różni zakonnicy, którzy towarzyszyliśmy Najwyższemu Pontyfowi, Grzegorzowi XVII w drzwiach jego celi w Santa Fe de Bogota. Widzieliśmy jak wielki motyl wleciał z ulicy po schodach i krążąc spoczął na środku ramy drzwi do celi. Zawołaliśmy różnych innych, włącznie naszych zakonnic, które były w Kaplicy, aby widziały to wydarzenie. Krótko potem motyl wleciał do celi Jego Świątobliwości. Wszyscy widzieliśmy jako wyraźny znak, że tam znajdował się następca Pawła VI. Motyla złapano i zachowano. Nadal mówi Święta Teresa:) "Odtąd, Matka Generalna, Matka Teresa, przemieni się we Współ-Założycielkę, z Ojcem Generalnym, dla żeńskiej Gałęzi. Jest Współ-Założycielką. Was błogosławię."
Biography of Crowned Saint Teresa of Jesus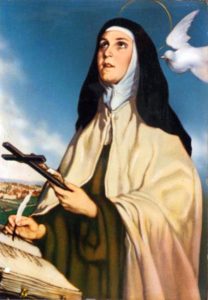 Biography of Saint Teresa of Jesus
Religiosa. Foundress. Matriarch. Doctress. Exalted Mystic. Stigmatic. Spiritual Martyr.
Confirmed in Grace. Reformatrix of Carmel and Illustrious Protectress of the
Carmelites of the Holy Face. In the world, Teresa de Cepeda y Ahumada, she was born in Ávila, Spain, on the 28th of March 1515. She was daughter of Saint Alphonse Sánchez de Cepeda and his second wife Saint Beatrice de Ahumada, to whose marriage ten children were born. She was baptized in the parish of Saint John in Ávila. Gifted with an active and determined temperament, at seven years of age, moved by her reading of the lives of the Saints, she convinced her brother Roderick to go off to muslim lands to suffer martyrdom for Christ. They were stopped by an uncle of theirs who took them back home. Nonetheless, on reaching adolescence, her pious childhood sentiments were somewhat dampened by reading books on chivalry which filled her imagination, and she took pleasure in finery and pastimes, though without offending God grievously.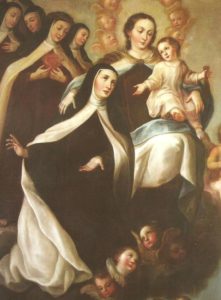 Following her mother's death in 1528, she gave herself up into the arms of the Most Holy Virgin Mary as orphan. To withdraw her from the dangers of the world, and so that she might receive a pious education, in 1531 her father confided her as a boarder to the convent of the Augustinian Religiosas of Holy Mary of Grace, in Ávila, where they took in well-to-do young ladies, who went there to make progress in the study of religion and in the practice of virtue. There she began to pray much and ask others to pray for her so that God might show her clearly the way by which she might best serve Him. Though she had no wish to be a Nun, she knew that human love did not last forever. She began to make up her mind to take the veil, but in an Order less austere than the Augustinians. Having discovered her vocation amid unspeakable struggles, after falling ill, in 1532 she left and spent some time in Hortigosa with her uncle Peter Sánchez de Cepeda, and in Castellanos de la Cañada with her sister Maria de Cepeda, who was married. Back in Ávila, following deep reflection, she revealed to her father her firm decision to become a Religiosa, and he, though very virtuous, objected to being deprived of his favourite daughter. After a fierce interior struggle, very early on the 2nd of November 1535, at twenty years of age, Saint Teresa fled from home early in the morning and entered the Carmelite convent of the Incarnation, in Ávila, which she had previously visited several times, and in which religious life was very lax, since sadly the Carmelite Order was in decline, having set aside the primitive Rules. The Saint said regarding her decision: "When I left my father's home, I do not believe that feelings will be stronger when I die, as it seemed to me that all my bones were out of joint…" Inside the convent there were Nuns who lived in opulence, including with maids, and others who lacked the necessities of life. Enclosure was practically nonexistent. On the 31st of October 1536, her father signed the dowry certificate for her daughter, and she took the habit on the 2nd of November that same year. In this regard she wrote: "By taking the habit, the Lord then gave me to understand how He favours those who make efforts to serve Him." On the 3rd of November 1537 she made her religious profession. From then on she redoubled her demands upon herself, and gave herself up to great penances, amid spiritual struggles and dryness.
Her health deteriorated to such a degree that her father sent the best doctors in Ávila and its district to the Incarnation, but she went from bad to worse. Owing to her illnesses, in autumn 1538 she had to leave the Incarnation and stay at her family home for a long period. Though she tried caring for her health by other means, the illness worsened, to the point that on the 15th of August 1539, at night, she fell unconscious and remained so for three days. She was given up for dead, and a tomb was even prepared for her. Nonetheless, her father refused to admit his daughter's demise and opposed her burial. Come to herself, she returned to the Incarnation very weak. In April 1542 she felt herself cured by Saint Joseph's intercession. For long years Saint Teresa continued leading conventual life amid dryness and spiritual struggle. The parlours of the Incarnation were like worldly halls visited by ladies and gentlemen from the nobility. Saint Teresa, whose name had become well-known in Ávila, was the principal attraction, and received visits from many people and attended the parlour like the rest. On the 26th of December 1543, her father Saint Alphonse de Cepeda died, tended by his daughter. In 1554 a deep interior transformation took place in Saint Teresa, with a decisive commitment to God, on contemplating a devout image of the Wounded Christ.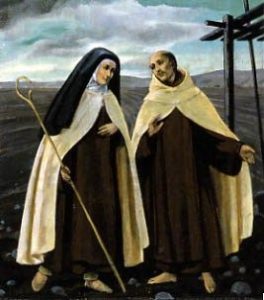 She says as follows: "I threw myself down beside Him shedding abundant tears, entreating Him to strengthen me once and for all so as not to offend Him. It seems to me that I then told Him that I would not rise up from there until He had done what I had begged of Him." From then on she began to experience a profound change in her life. She avoided the parlour, and redoubled the constancy and ardour of her prayer. Mystical phenomena were frequent, the confessors of the Incarnation did not understand her, and some of the more notable even alarmed her by saying that the spiritual favours she said she received were only given to very virtuous persons, and that she should take care lest the devil deceive her. Christ appeared to her and said: "Fear not, My daughter, I am. I will not forsake you." Visions of Christ recurred, and at the same time the love of God grew in her, a love so ardent as to be almost irresistible, as she herself wrote: "As He had promised me, His Majesty began to indicate more clearly that it was He, by a love for God growing so great that I did not know who was giving it to me, because it was highly supernatural, nor did I seek it. I felt myself dying from the desire to see God…  truly it seemed to me that my soul was being torn out." In the year 1557, the Jesuit Father Saint Francis Borgia, who was passing through Ávila, gave her wise counsels, and she became very relieved and comforted. On the 25th of January 1560, Saint Teresa received the grace of the Transverberation of the Heart, and therewith the extraordinary gift of Confirmation in Grace. She herself describes it: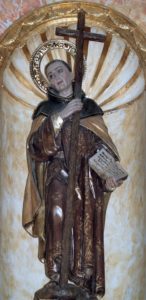 "I saw an Angel close beside me on the left side in bodily form… He was not tall, but short, remarkably beautiful, his countenance so flushed that he seemed one of the highest Angels… In his hands a long golden dart was to be seen, and at the tip of the dart-head seemed to have a little fire; it seemed to pierce my heart several times and reach my inward parts. On drawing it out, it seemed to me that he took them with him, and left me all ablaze with great love for God…" Following this great divine favour, incomprehension by some inexpert confessors continued. In August 1560, the Franciscan Father Saint Peter of Garavito, from Alcántara, visited her in Ávila, a man tried and tested in mystical matters, to whom Saint Teresa gave a clear and truthful account of her life. This holy Friar gave her light in everything and told her not to be grieved, to praise God, and be assured that all came from Him. Days later the Saint had a terrifying vision of Hell. On one occasion, on the stairway of the Incarnation convent, she met the loveliest Child, some twelve years of age. The Saint asked Him: "Who are You?" The Child answered: "And you?" The Saint replied: "I am Teresa of Jesus", and the Child said: "Well, I am Jesus of Teresa." In September that same year 1560, Saint Teresa of Jesus, meditating on the solitary life led by the Prophet Saint Elias and his Carmelite sons on Mount Carmel, moved by God decided to reform the Carmelite Order and found a convent with the rigour of the primitive Rule of Saint Albert of Jerusalem, whose essential features were: complete enclosure, fasting, silence and penance, to which she was to add some others, such as discalced feet, and living on alms. By divine mandate the new convent was to be placed under the title of Saint Joseph. To do this, she counted on the help of Saint Peter of Garavito, from Alcántara, and other notable protectors. With the authorization of the Bishop and a Pontifical Brief from Pope Saint Pius IV, on the 24th of August 1562, in Ávila, Saint Teresa founded the convent of Saint Joseph, first of the Reform or the Discalced, where she installed the first Nuns, who from then on led lives given up to prayer and penance, with great austerity, extreme poverty and strict enclosure. Saint Teresa had courageously to overcome manifold difficulties and face up to great persecution, above all opposition from many Nuns in the convent of the Incarnation, and commotion in the town itself, whose council tried to suppress the convent. But the Lord assured the saintly Foundress that they would not succeed. At last opposition melted away, and in 1563 she obtained licence to leave the Incarnation and join her daughters in Saint Joseph. The Most Holy Virgin Mary covered the Nuns of the first reformed Carmelite convent with Her heavenly Mantle.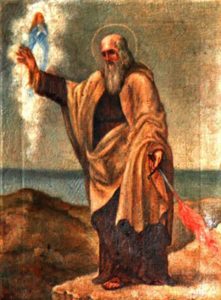 Saint Teresa continued to enjoy the loftiest ecstasies and heavenly visions. King Saint Philip II, desirous of reforming convents of religious life in his realms, invited the Carmelite General, Father John Baptist de Rubeo, to visit them. In 1567, Father Rubeo came to Spain and visited his convents in Castile. He was left in admiration at that of the Teresian Reform, so that he gave licence to the Saint to found new houses of Nuns, and also of Friars, houses which she called "Little dovecots of the Virgin Our Lady". On the 15th of August that same year, Saint Teresa founded her second convent, in Medina del Campo, Valladolid. There she came into contact with Saint John of the Cross, who had recently concluded his studies in Salamanca, had received Priestly Ordination, and intended to leave the Order of Carmel to enter the Charterhouse. Saint Teresa convinced him to join the Work of the Reform, and he came to be the Saint's closest collaborator in her reforming plans. In 1568 she founded the first priory of the Reform of Discalced Friars in Duruelo, Ávila; which, on the 28th of November that same year was inaugurated by Saint John of the Cross and Anthony de Heredia. These foundations were followed by others of Nuns and Friars. In 1571, by order of the Apostolic Visitor, Saint Teresa was appointed Prioress of the calced convent of the Incarnation for three years, where religious life was becoming ever more lax. The saintly Foundress, moved by God, accepted the priorate, and on the 14th of October that same year took possession of her charge amid a great tumult of Nuns who refused to accept her.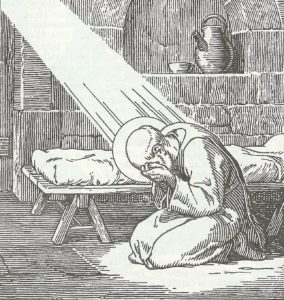 In the first chapter, placing the imagen of Our Lady of Clemency in the prioress's seat pertaining to the Saint, after presenting Her to the Nuns as the true Prioress, she spoke to them with such sincerity, tact and kindness, that even the hardest hearts yielded. The saintly Foundress took care that food might not be lacking to the Nuns, set everything in perfect order, put an end to the parlour and established conventual discipline; and besides installed Saint John of the Cross as confessor. In a short time the Nuns changed their ways radically, and became models of prayer, sacrifice and recollection. On the 18th of November 1572, the Lord appeared to Saint Teresa and told her: "From now on, not only as Creator and as King and as your God will you defend My honour, but as true spouse of Mine; My honour is now yours, and yours Mine". That same year, the Lord told her: "Do you think, My daughter, that merit is in joy? Not so, but in acting and in suffering and in loving. Believe Me, My daughter, that to whomever My Father loves more, He gives greater toils, and to them love responds. How better can I show My love than by wanting for you what I wanted for Myself?" On the 6th of October 1574, the triennium of the priorate over, the Saint returned to the reformed convent of Saint Joseph of Ávila. In 1575, at the foundation in Beas de Segura (Jaén), Saint Teresa met Father Saint Jerome Gratian, who was to become her confessor and hold high office in the Carmelite Reform, which every day was more thriving. In the year 1576, the Lord told her: "You already know of the espousal between you and Me, and that being so, what I have is yours. So I give you all the Toils and Sorrows I bore, and with them you can ask of My Father as if They were yours."
New difficulties soon arose, caused by Calced Carmelites, hostile to the Teresian Reform, and by other enemies. Her plans for reform and for foundations brought Saint Teresa into grave conflicts with civil and ecclesiastical authorities. But she, with her virile spirit, amid ailments and economic penury, courageously faced up to the great setbacks, calumnies and persecutions, saying: "Christ and I, a majority"; to the point that she had to face trial by the Inquisition, from which she came out cleared. Father Rubeo himself, General of the Carmelite Order, who had previously been a great defender of Saint Teresa's reform, influenced by underhand talk, forbade her to found further convents and compelled her to stay as though under arrest in a Toledo convent. The new Nuncio Philip Sega arrived in Madrid intending to put an end to the Reform, and dubbed Saint Teresa as "a restless, roaming female, disobedient and unruly"; and accused her as well of inventing false doctrines, leaving her enclosure and having founded without licence from the Pope or from the Father General of the Order. In 1578, Sega subjected the discalced Religiosos and Religiosas to the authority of the calced provincials. The ominous and vengeful Princess of Éboli, Ana de Mendoza, also made her ferocious attacks against the saintly Foundress. For Saint Teresa and her Discalced, the threats, calumnies and sufferings continued. Her greatest collaborator, Saint John of the Cross, was also victim of cruel persecution and confinement by the calced, and was treated inhumanly. Saint Jerome Gratian was also persecuted to death and confined in the priory of the calced in Madrid. The battles were so great that the Reform appeared to succumb.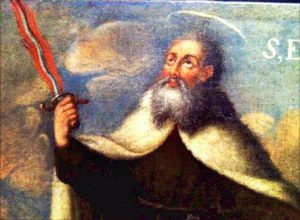 Saint Teresa of Jesus firstly wrote to the King of Spain, Saint Philip II, asking help for her work, and was later received by the monarch in audience in the Alcázar of Madrid. Saint Philip II, a man of irreproachable rectitude and profound religiosity, thoroughly identified himself with the Reform and was a great admirer of the Saint. Making use of his authority, he had Nuncio Sega summoned, and reproached him sternly for his wrong-minded attitude, and the nuncio had no option but to obey the king. Persecution against the Carmelite Reform was cut short. The great Monarch, in 1580, obtained from Pope Saint Gregory XIII that the discalced convents founded by Saint Teresa were to form a province independent of the calced. By this, the Holy Carmelite Reform was safeguarded and strengthened.
The Exalted Reformatrix eventually founded a total of seventeen priories of Nuns and fifteen of Friars. The Nuns' convents were: in 1562, Ávila; in 1567, Medina del Campo; in 1568, Malagón; in 1568, Valladolid; in 1569, Toledo; in 1569, Pastrana, closed in 1574 through the princess of Éboli's fault; in 1570, Salamanca; in 1571, Alba de Tormes; in 1574, Segovia; in 1575, Beas de Segura; in 1575, Seville; in 1576, Caravaca, through Ana of Saint Albert; in 1580, Villanueva de la Jara; in 1580, Palencia; in 1581, Soria; in 1582, Granada, through Saint Anne of Jesus; and in 1582, Burgos. Saint Teresa's health was tremendously broken. Journeys, sufferings, the longing for God, had by then physically worn her out. Her inseparable companion and nurse was Saint Anne of Saint Bartholomew. On the 1st of October 1582, in the convent of Alba de Tormes, she announced that her death was imminent. On the 3rd of October she confessed and received the Last Sacraments. Her last recommendations to her daughters were: "My daughters and my mistresses: for love of God I ask you to take great account of keeping the Rules and the Constitutions, for if you keep them with the promptitude you ought, no other miracle is needed to canonize you; so then, you see the bad example this bad Nun gave and has given you, and forgive me". One of the expressions they caught from her lips was: "Now is the hour, my Spouse, for us to see each other." Saint Teresa of Jesus died on the 4th of October 1582 at sixty-seven years of age, in the convent of Alba de Tormes, Salamanca, pronouncing the words: "I give You thanks, Lord, for I die a daughter of the Church." The day following her death, owing to the Gregorian calendar reform, was the 15th of October. Her incorrupt body, including the heart, is to be found in Alba de Tormes.
As eminent writer and mystical Doctress, she left many important written works, true gems of universal literature. By them mysticism reached the highest peaks of expression and profundity. Saint Teresa's reforming work was highly efficacious against lutheranism and other heresies.
Pope Saint Gregory XVII the Very Great taught: "It is infallible doctrine that the transverberation of the heart of the Mystical Doctress of Ávila, Saint Teresa of Jesus, was produced by fire in the form of a dart, issuing impetuously from Jesus' Deific Heart in token of the indelible seal of mystical espousal between them both. This espousal was superior to every other mystical espousal granted by Christ to other mystics. This espousal is different from the common espousal of the religious life and that corresponding to Priestly participation in Christ's Mystical Body." "It is infallible doctrine that the mystical Doctress of Ávila, Saint Teresa of Jesus, received the gift of confirmation in grace at the precise moment when she was mystically espoused to Christ by way of transverberation." "It is infallible doctrine that the mystical Doctress of Ávila, Saint Teresa of Jesus, is enthroned in heavenly glory following Apostles Saint Peter and Saint Paul." 
Infallible interpretation of Pope Saint Peter II the Great regarding the following visions and writings of Saint Teresa of Jesus: «Saint Teresa of Jesus had a vision of the Order of the Last Times: "The Carmelites of the Holy Face in Company of Jesus and Mary", founded by Pope Saint Gregory XVII the Very Great. Saint Teresa of Jesus says that, one day being at prayer, God gave her to understand "the great benefit an Order of the latter days is to accomplish, and the strength with which its members are to defend the Faith." For in these Apocalyptic Times amid the General Apostasy, the Catholic Faith is sustained by the valorous Order of Carmelites of the Holy Face, which is the renovation and culmination of the Order of Mount Carmel.
On another occasion, when Saint Teresa was praying before the Most Holy Sacrament, a Saint appeared to her, who was the Prophet Saint Elias, Founder of Carmel, though she does not give his name, who gave her to understand that the Order of Carmel would again become lax in the Last Times owing to progressivism introduced into the Roman Church by the enemies of the Catholic Religion. And then he showed her a large book which he held in his hands, and told Saint Teresa to read some letters which were very large and legible, which said: "In the times to come this Order will flourish; there will be many martyrs." Here he was referring to the Order of Carmelites of the Holy Face, whose members will undergo great persecution and martyrdom in their struggle against heresies and against Antichrist-in-person. 
Another time, Saint Teresa goes on to say, "in Matins in choir, six or seven members of this same Order were represented to me, placed before me with swords in their hands. I think this gives to understand that they are to defend the Faith; for elsewhere, when in prayer, my spirit was rapt up: I seemed to be in a great field, where many were battling, and they of this Order fought with great ardour. Their faces were beautiful and very flushed, and they threw many to the ground, overcome, and killed others. It seemed to me a battle against heretics." In this vision is exalted the warlike character of the Order of Carmelites of the Holy Face or Order of Crossbearers, in their constant struggle against Satan and his henchmen, in defence of the Catholic Faith.
Saint Teresa also gives to understand that the Prophet Saint Elias, whom she had seen a number of times, told her several things related to the great Carmelite Reform which she was carrying out, and thanked her for the prayers and efforts she was making for the Order of Carmel, namely for the Order of Saint Elias, having been founded by the Holy Prophet, promising that he would commend her to the Lord. Though Saint Teresa does not say so explicitly, the Prophet Saint Elias told her that in the Last Times all the other Religious Orders would cease to exist and that only the Order of Carmel would prevail, thanks to the foundation of the "Order of Carmelites of the Holy Face", and that at the End of Time all the other Religious Orders would be absorbed into the Mother Order, namely the Order of Mount Carmel, from which they had all been born. Thus the Order of Carmelites of the Holy Face assumes into her Mother's soul the spirit of all the other Orders by now fallen. Saint Teresa concludes by saying: "I do not indicate the Orders: if the Lord is served that they become known, He will declare them, so that others be not offended; but all the Orders have to obtain, or each of them on its own, that by their means the Lord make their Order so blessed that, in such great need as the Church now has, they serve Him. Happy the lives which end thus!" In these mysterious words, Saint Teresa of Jesus advises all the Religious Orders existing in her time, and those which would arise later, that however more observant and holy they were, greater would be the glory of the Order of Mount Carmel, as mother she is of them all. 
Canonized by Pope Saint Gregory XV the Great on the 12th of March 1622. Declared Doctress of the Church by Pope Saint Paul VI on the 27th of September 1970.